Kerlon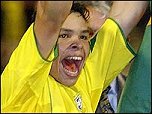 Kerlon Moura Souza, who is more frequently known as Kerlon, was born on January 27, 1988 in Ipatinga, Brazil. Kerlon is currently playing for Cruzeiro in the Brazilian Football League after representing the club at youth team level.

Kerlon is often used as a centre forward, but has also played in a more attacking central midfield role. Kerlon's most effective position is yet to be decided.

Kerlon is the latest in a long line of incredibly gifted Brazilians to stun the world of football with a magical piece of skill. Kerlon's party piece is the aptly named 'seal dribble'. Kerlon is able to quickly flick the ball up from the ground and onto his head and run with it during matches. Whilst balancing and bouncing the ball on his forehead Kerlon is able to glide past opponents. Kerlon's close control with his head and overall co-ordination are so outstanding that Kerlon can perform the feat at pace or while changing direction.


It may sound like a circus trick, but the seal dribble is no laughing matter for the opposition. Kerlon's trick is a move which is very difficult to stop by legal means, which often results in bewildered opponents resort to simply pushing Kerlon over and fouling him.
"It's just a skill I have, though it's not meant to be a mark of disrespect for my opponents," Kerlon says. "The trick is beautiful and efficient. Sooner or later, defenders will find a way to stop me without conceding a free-kick. But until then, I can keep using the play to my advantage. Opponents say they will snap me. But this doesn't scare me it just motivates me even more." Kerlon has been described as truly inspirational and a creative genius to come up with such a move.

Although the seal dribble has become established as Kerlon's trademark, he also boasts many other talents. Kerlon is a superb dribbler and possesses wonderful ability to play weighted passes in behind opposing defences. Kerlon, like many other Brazilian's is also a free-kick expert. Given the amount of fouls the seal dribble draws, this trait is made all the more beneficial.

Kerlon earned his recognition at the world stage when he represented his country at Under-17 level during the South American Under-17 Championship in April 2005.
Kerlon finished the tournament as the top goal scorer where he showcased his abilities. During the tournament Kerlon curled home some wonderful free-kicks. Kerlon also displayed pace to beat defenders and the skill to coolly lob the ball past the goalkeeper whilst under pressure. Kerlon was also likened to the great Brazilian striker Romario as he scored some typical penalty area poachers' finishes.

Manchester United were reported to be pursuing the Kerlon, however, both clubs quickly downplayed the rumour and insisted that neither sides were in contact with each other about the proposed transfer. Kerlon's current contract is reported to last until 2009, which would likely ensure that any associated transfer fee would be large.

It remains to be seen what the future will hold for the talented Kerlon, if Kerlon continues to develop his skills, there is little reason to doubt whether he can emulate the likes of Ronaldinho, Ronaldo and Kaka and be considered some of the World's best players.